Snowmobiling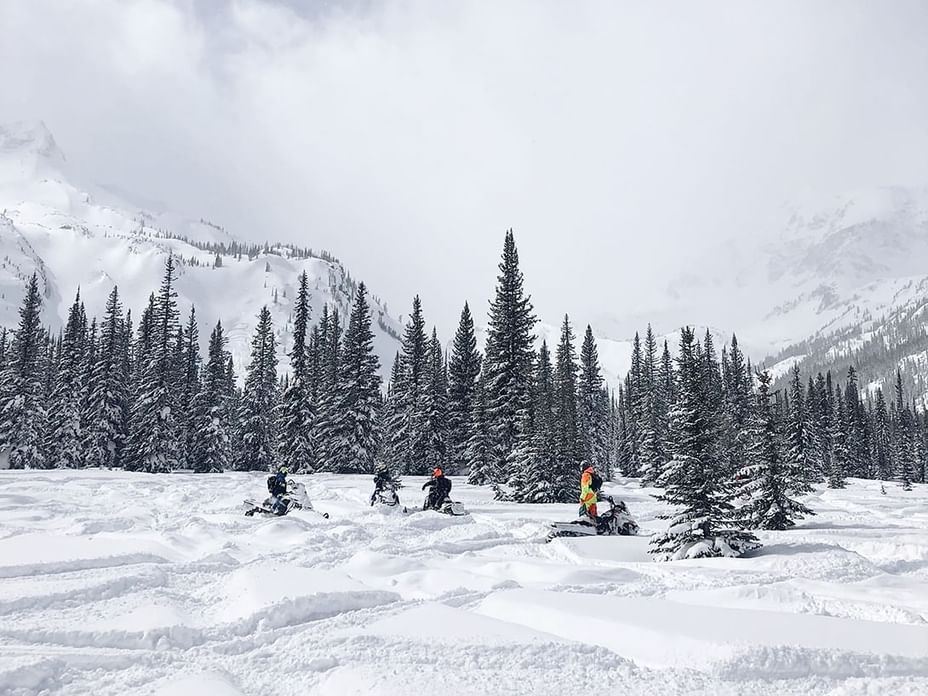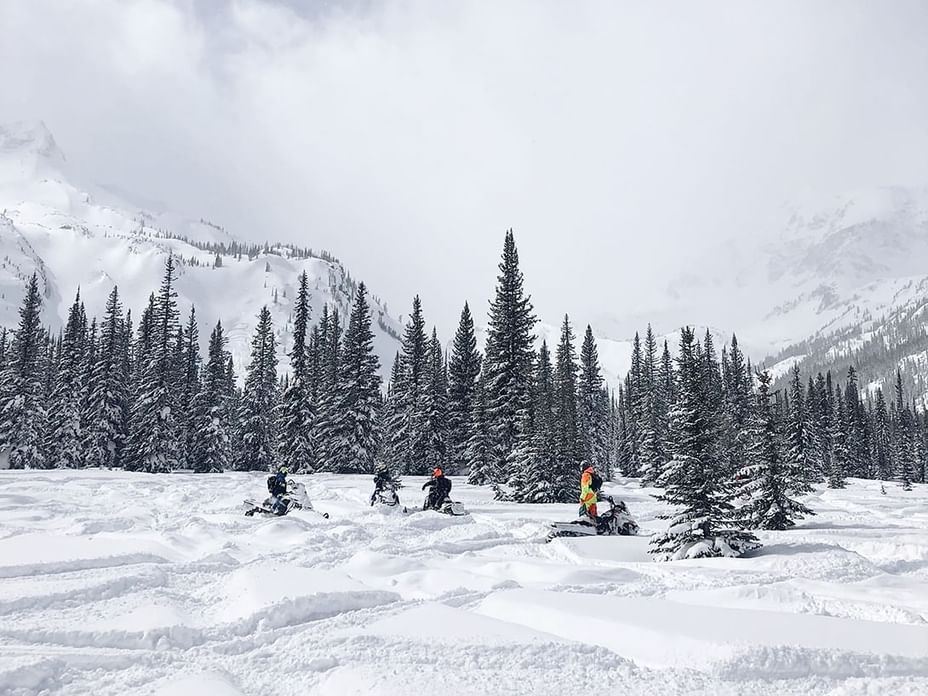 View native wildlife and zoom across the evergreen landscape. Snow suits, full face helmets, and gloves are provided by our preferred vendors. Enjoy half or full day snowmobile tours near Jackson or an all day excursion to Old Faithful in Yellowstone National Park.

Granite Hot Springs Half-Day Tour:
Relax in Granite Hot Springs and experience a truly awe-inspiring day. This tour is ideal for first visitors, families, and those looking for a relaxing day with mellow fun on a snowmobile. Due to the time constraints, no off-trail riding is permitted on half-day tours. Wear your swimsuits under your clothes for more time at the pool!
4-5 hours
Starting at $295 per driver
$185 per child (5-12 years old)
*Prices vary dependent on time of season
Greys River Full-Day Tour:
Explore the perfectly groomed trails and serenity of western Wyoming from the comfortable seat of your snowmobile. Traverse the shores of Greys River and take in spectacular mountain views. Wildlife is abundant in this area and the ride is beyond fun.

9 hours
Starting at $400 per driver
$185 per child (5-12 years old)
*Prices vary dependent on time of season
Snowmobile Tour in Teton Village:
Enjoy a beautiful snowmobile tour at a private ranch in Teton Village. This 1.5 hour tour gives you a great introduction to snowmobiling.

2 hours (departing at 9 a.m. and 1 p.m.)
$260 per driver
$99 for each passenger
What to bring:
ski clothes, goggles/sunglasses, gloves, neck gaiter, and hand warmers.
Bridger-Teton National Forest Half-Day:
Located in western Wyoming, the Bridger-Teton National Forest offers more than 3.4 million acres of public land for outdoor recreation enjoyment. Offering nearly 1.2 million acres of designated wilderness, more than 3,000 miles of road and trail, and thousands of miles of unspoiled rivers and streams, the Bridger-Teton epitomizes a vast western landscape.
5-6 hours
Starting at $270 per person
$185 per child

Yellowstone Old-Faithful Snowmobile:
Old Faithful is the largest concentration of geysers and hotspots in the park. The old Faithful Snowmobile Tour will make several stops along the way allowing you time to absorb the beautiful landscape and scenery. This tour also provides a platform to learn about the history and geological features of the park.
Group tours starting at $299 per driver.
Private tours
1-2 people, $2,500
3-4 people, $2,700
5-7 people, $2,900
8-10 people, $3,690
*prices are more expensive the week of Dec 24 - Jan 2
Wildlife Half-Day Tour:
Take a relaxing ride on a groomed trail through a winter wildlife sanctuary. Elk, deer, moose, bighorn sheep, eagles, and wolves are animals that one might spot.. See the massive landslide that forever transformed the quaint town of Kelly (and formed Slide Lake). The Gros Ventre Valley is considered a critical winter game range. No off-trail snowmobile riding is permitted.
5-6 hours
Starting at $270 per driver
$185 per child (5-12 years old)
*Prices vary dependent on time of season