Horseback Riding
Nose-to-Tail Trail Ride, Scenic and Advanced Rides Available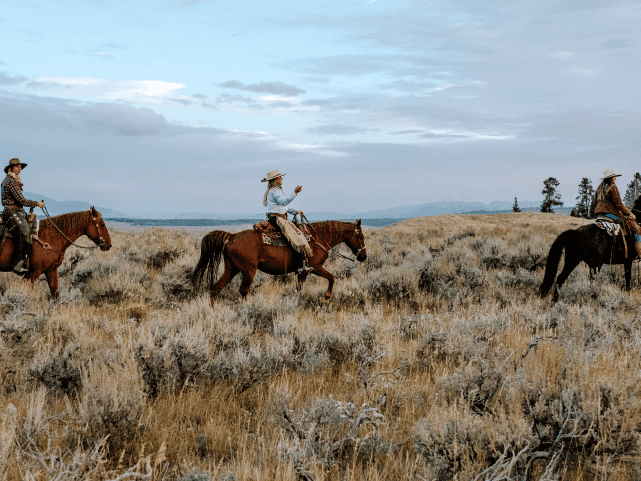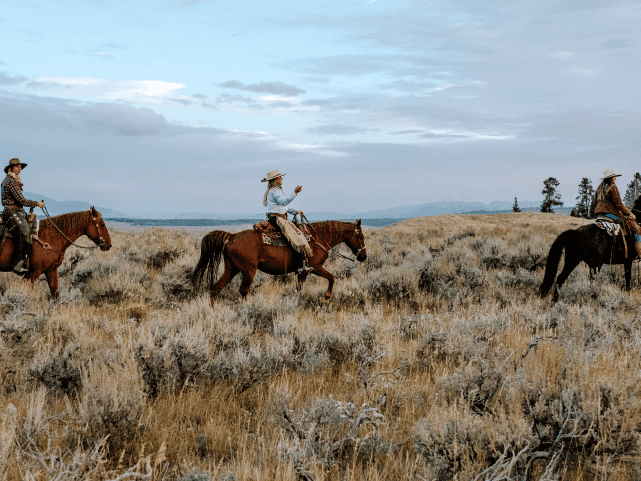 Nose-to-Tail Trail Ride:
1-HOUR TRIPS
Great for beginners and young children ages 6+. This ride goes along the Snake River and is perfect if you just want a taste of horseback riding.
2-HOUR TRIPS
This ride starts on a flat trail and gradually transitions uphill, revealing expansive views of the winding Snake River and the surrounding areas.
3-HOUR TRIPS
Ride along the Horse Creek Drainage where you will eventually cross the creek on horseback. This ride will also have the same views as the two-hour trip.
HALF-DAY TRIPS
This ride is perfect if you want to travel a little further in hopes of seeing native wildlife. Traverse the border of the Gros Ventre Wilderness and enjoy a picnic lunch at the halfway point of the journey.
FULL-DAY TRIPS
This is the whole experience if you want to spend the day in Jackson Hole on horseback. You will have the opportunity to see beautiful views, wildlife, and cross creeks while climbing hills. Lunch is included on this ride.
Scenic Trail Ride:
Enjoy a guided horseback ride atop the East Gros Ventre Butte. Take in the unique views of the Teton Mountain Range, the town of Jackson, and the surrounding area. We recommend wearing closed toe shoes and long pants.

Advanced Rides:
Horseback ride over wind-swept trails on seasoned, hard-working horses while you reconnect with nature and take in the breathtaking sights. Your experienced guides will take you through the Gros Ventre Wilderness. All advanced rides will cross unmaintained land, will require you to work with your horse, and ultimately improve your riding skills. We recommend wearing closed toe shoes and long pants.
Nose-to-Trail Ride:
1 HOUR TRIPS: $65 per person
2 HOUR TRIPS: $105 per person
3 HOUR TRIPS: $145 per person
HALF-DAY TRIPS: $225 per person
FULL DAY TRIPS: $335 per person
1-hour rides ages 6+ all other rides are appropriate for ages 8+
Scenic Trail Ride:
ONE HOUR: $65 per person
Private: $605 for 1-5 people
TWO HOUR: $85 per person
Private: $880 for 1-5 people
Ages 6+ for one-hour trips; 10+ for two-hour trips
Advanced Rides:
HALF DAY:
3 hours: $300 per person

FULL DAY:
5 hours: $400 per person
Ages 8+ for all rides